An extraordinary small office setup is based on nothing complex but two basic guiding principles; simplicity and functionality.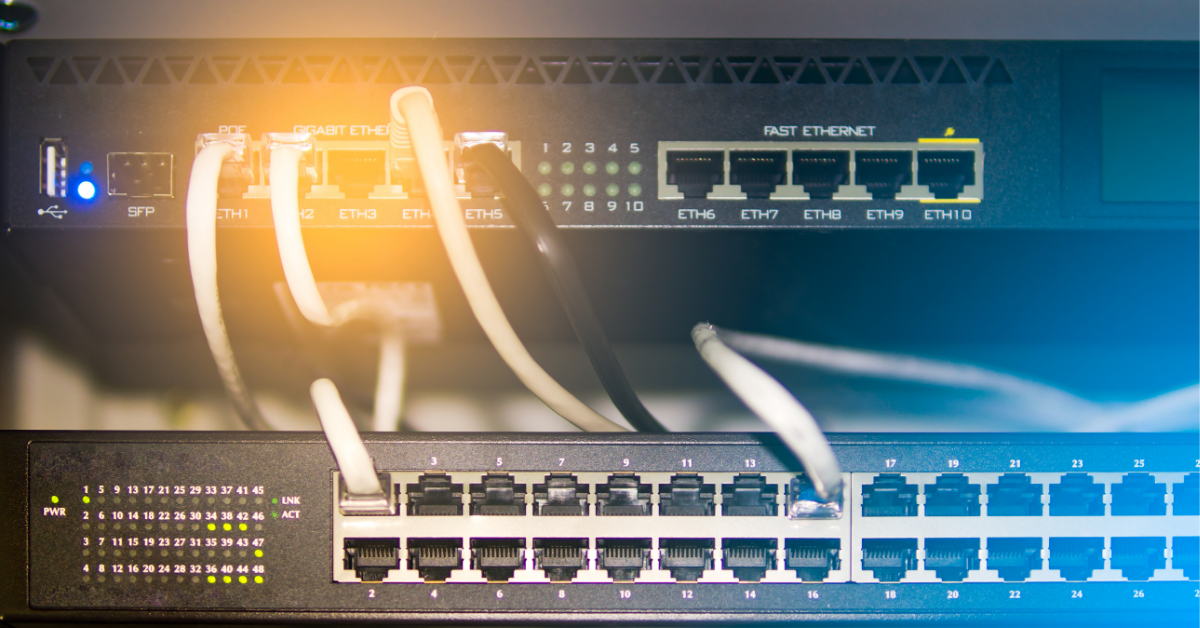 The first step in this process should always be educating yourself about the networking hardware so you can make better and relevant purchases. Little things like knowing any hardware that suits your setup now will need to be replaced in two to three years or knowledge about licenses and upgrades is very helpful in business setup processes. This article aims to explore some of the similar themes and how they can help set up a small office network.
Knowing the differences between a switch and a router
Knowing the difference between switches and routers can come in handy for SMB owners when it comes to picking the perfect networking hardware for your office that is a hub for switches and routers. A switch is used for communication and information sharing between network devices. Any devices with an ethernet cable port are connected with an ethernet network which is then tied together into a single network by switches.
A router, on the other hand, binds different networks together both inside an office space and in the outer physical space as well. Generally, this would mean tethering your network with the Internet. Comparatively, a router performs a more complex job than a switch. It acts as a gateway for information traveling to your devices from the internet and also protects them from any cyber-attacks. It can only get a little confusing if you have less knowledge on the subject since all wired routers are integrated with switches and wireless routers can behave as a switch as well.
Choosing a switch that fits your needs
There are three basic types of network switches that you can pick from managed switches, unmanaged switches, and smart switches
Unmanaged switches are preferred mostly by small business networks as they provide basic configuration features and need minimal technical support for installation purposes.
Managed switches provide greater control over network consumption. You will need technical experts/IT team to control these for you. They can be adjusted remotely and are ideal for bigger setups.
Thirdly, smart switches, also known as Layer 2/3 switches, are more of a hybrid of the first two types (unmanaged/managed switches) They allow you control over OSI Layer 2 model, making it smarter than unmanaged switches but if you're looking for full-on Layer 3 control for your small office network, you should consider managed switches.
Selecting a router for your small business
Broadband signals from the modem are picked up by routers, allowing Internet and intranet connectivity for any devices on your network. Wireless routers come with built-in wireless access points that serve Wi-Fi. Wireless connectivity from a wired router, however, depends on access point hardware that can be tied with an expansion port. Additionally, some routers come with built-in firewalls, others do not.
Be mindful of the following when selecting/comparing wired and wireless routers:
A firewall is a must-have feature when shopping for routers. It can tell if the threat was unsolicited or an inside port requested which can help keep a check on unwanted traffic and restrict control if needed.
Secondly, VPN support is also necessary for privacy and greater protection especially when working remotely. VPN provides a safe and secure channel for data transferring. Some of the top-rated VPN wireless routers available in 2021 are as follows:
Trendnet AC2600 StreamBoost MU-MIMO WiFi Router
Asus RT-AC5300 Wireless AC5300 Tri-Band Wireless Router
Linksys WRT3200ACM MU-MIMO Gigabit Wi-Fi Router
Netgear Nighthawk X4S Smart Wi-Fi Router
D-Link AC1900 MU-MIMO Wi-Fi Router
Thirdly, with an increase in BYOD work styles, Wireless Application Protocols are also on the rise as users no longer want to be restricted by access points.
Last but not the least, it is best to go for the latest PoE+ as it ensures greater power and supports modern equipment, making the planning and installation procedures convenient.
Looking 3-5 years ahead for scaling your network
It is considered good practice to keep scalability in mind while setting up your network infrastructure so you can meet the demand to connect more systems when needed. This can be best planned if done with a margin of 3-4 years so you can prevent wasting resources with last-minute equipment changes.
It is worth noting, while these tips and best practices are helpful to get you started, there isn't any perfect formula since every small office is unique in its way. It all boils down to how well you pick and prioritize the right combinations of different elements and see what works best for you. Taking that into account and managing everything within your budget will let you make the most out of your new office setup. We hope you found this article helpful and picked up on a thing on two that you will use when creating your space. We wish you all the best!
Annexus Technologies has trained professionals to help you set up your systems effortlessly who specialize in setting up the Hardware Server & Storage. Get your systems up and running right away! Let our experts take care of the installation and configuration phase.